Post by Dan on Feb 5, 2019 18:52:22 GMT
Dreams
The Dreams company in Belgium manufactures many high-quality cigarettes and cigars, including California Dreams (multi-colored cigarettes), Sweet Dreams (cherry flavored cigarettes), Midnight Dreams (black cigarettes), to name just a few, as well as an herbal line, Herbal Dreams. It is believed they were discontinued several years ago. California Dreams Assorted Colors cigarettes are produced in USA & Belgium.
The line, which comes in a variety of different styles, range from traditional blends to highly flavored. "California Dreams is a multicolored cocktail cigarette, with unflavored Virginia tobacco. Midnight Dreams is a black cigarette with Russian Latakia. It's stronger, but with a smooth character. Sweet Dreams is flavored with vanilla, cherry, chocolate. Herbal Dreams blends pharmaceutical-grade herbs to approximate the taste of tobacco, but without tobacco."
- California Dreams [multi-coloured]
- Pink Dreams
- Cherry Dreams
- Vanilla Dreams
- Chocolate Dream
- Chocolate and Mocha Dreams
- Mint Dreams
- Herbal Dreams
- Natural Dream
- Midnight Dreams
- Midnight Dreams Russian Blend
- Cigars - Cherry, Chocolate and Vanilla.
California Dreams
Pink
Cherry
Vanilla
Chocolate - see top image
Chocolate and Mocha
Mint

Herbal
Natural
Midnight
Russian Blend
Specials: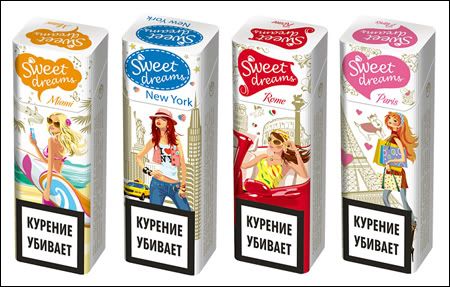 Cigars: