Post by Dan on May 2, 2020 23:56:08 GMT
"
A suburban housewife creates an alien voice
One day [in 1981] Marin County housewife Pat Welsh was talking to a salesperson at a local camera store about getting some pictures enlarged. Standing behind her was Ben Burtt, 34, the sound designer for George (Star Wars) Lucas. When he heard Welsh speak, Burtt says, "I grabbed her, took her outside and explained what I was about." On the lookout for E.T., Burtt quickly auditioned Welsh, a former elocution teacher, and once even asked her to speak without her dentures. "I made him look away," she says. Three months later Pat was chosen as the voice of E.T. "I used the parrot approach," says Burtt. "I would pretend I was E.T. and she would mimic me." Burtt recorded Welsh's words off the set, then fit them to match the movement of E.T.'s mouth.
Although Burtt says that most of E.T.'s words were spoken by Welsh, he used other voices. When E.T. burps, it's really the belch of Lucas employee Howie Hammerman ("He does it all the time, so we decided to put him in the film," says Burtt). When E.T. sees Elliott for the first time and screams, it's an otter's shriek electronically processed. And when E.T. lulls Elliott to sleep, Burtt was using a dog's slowed-down growl. Debra (An Officer and a Gentleman) Winger was another voice contender (she ultimately did a few words and snorts), but Spielberg and Burtt preferred Pat for the words. "They wanted a sound unfamiliar to American audiences," says Welsh. "Before Pat, I had almost settled on an 82-year-old Tibetan woman," Burtt says. "Steven thought it was a good idea to give E.T. a foreign accent. After all, he comes from a different planet."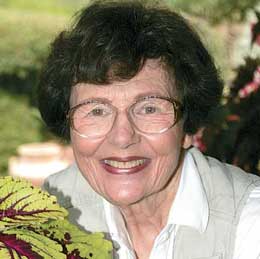 Pat Welsh, 65ish, sympathizes with E.T.'s suffering. She underwent heart surgery in her 30s and has lived with a variety of ailments. Smoking two packs of cigarettes a day, but it has probably given her voice its characteristic timbre. "You can't tell whether it's a male or a female," says Burtt. Welsh is delighted to be "a piece of the puzzle," though she earned just $380 for the job, which took nine and a half hours. "I decided they were on a slender budget," she quips. Still, she and her retired banker husband, Tom, harbor no resentment. Their new license plate reads I LOVE ET."
On January 26, 1995, Welsh died of pneumonia in Green Valley, Arizona at the age of 79.
Refs:
people.com/archive/cover-story-revealing-his-secrets-at-last-vol-18-no-8/