Introduce Yourself
Feb 5, 2015 3:34:09 GMT
Post by RXPRO on Feb 5, 2015 3:34:09 GMT
just wanted to say how happy I am to see a forum on smokevision......I am giving this shoutout to my fav model casey.....awesome power smoker who doesn't get much play on this site....hope to see more of her,,,,,
and her scene that steve did with her , on a balcony, for smokesignals magazine, still is one of my all time favs.....hopefully steve can rerun it here....
thanks and I wish the forum much success
Dan
Administrator
Posts: 2,173

Post by Dan on Feb 5, 2015 11:48:49 GMT
hi RXPRO, you are our first guest here on the forums.

I made a 'classic models and requests' section for your picture of Casey. You would be surprised to learn there is more than once Casey in the archives.

While I'm here I guess I'd best introduce myself. I'm Dan, born Feb 1976. I got to enjoy lots of smoking in movies, on TV and everywhere growing up, and developed a passion for the elegance, grace and style; wrapped up in lipstick and perfume femininity. Smoke and womanhood just seem to go together for me. But as a smoker myself, I also like the pleasure, and yes the mellow high from each one, when taken long and deeply. I respect each smoke, and enjoy between 7 and 10 per day; such is my reverence I want to live longer and stay healthy so I can smoke longer and not have to give up later. I smoke when I need one, and when I do it is delicious.
pro
Full Member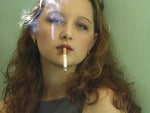 Posts: 50

Post by pro on Feb 7, 2015 12:08:49 GMT
I have been attracted to smokers as long as I can remember....esp the power smokers....love the check hollow drag, the chest rising as they take in the smoke and a long flowing exhale....love dangles too and hands free drags.....anyhow got those pics of casey up
brianmandude
Full Member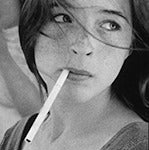 Post by brianmandude on Feb 23, 2015 22:25:07 GMT
Hello all,
I hope this forum does well!
Dan
Administrator
Posts: 2,173

Post by Dan on Feb 24, 2015 13:21:30 GMT
Welcome dude, just wanted to say thanks for posting and sharing your opinion. And yet another great avatar in the forum.
santabear
Newbie
Posts: 7

Post by santabear on Jul 3, 2015 11:16:58 GMT
Hello World,
Longtime fan of Smokevision, Model House, WSC, et al. Good to see a forum for your fans!
Dan
Administrator
Posts: 2,173

Post by Dan on Jul 12, 2015 20:10:55 GMT
Just wanted to say thanks for registering, and yes, a forum run by fans for the fans.

Deleted
Deleted Member Posts: 0
Post by Deleted on Oct 17, 2015 5:52:44 GMT
Hello All,
I'm proud to say that I have been an avid collector of Steve's work since day 1! I've personally enjoyed our phone conversations and estimate buying approximately $4000.00 + over the years and continue to enjoy all the creative talent that is much easier said than done! Once Upon a Time I too aspired to create my own work and can confidently say, "the work was terrible" compared to Steve's.
rr
Dan
Administrator
Posts: 2,173

Post by Dan on Nov 21, 2015 18:03:08 GMT
Just wanted to to officially say Hi satincig. Its been wonderful chatting to you in PMs, so just wanted to welcome you to the forum in general. This whole project was started to get feedback from the scene, yet it has transformed into a photo and message blog - which is ok too.

kenhoughton
Newbie Posts: 4

Post by kenhoughton on Dec 23, 2015 21:53:10 GMT
Hi, I'm Ken. I grew up in the 60s and 70s when it seemed every woman smoked and there were still ads on TV! And of course women's magazines. For ages I have been searching for someone who had Winston super kings ads on their site - as an adolescent guy those particularly sent me over the moon. And very happy to discover them here!